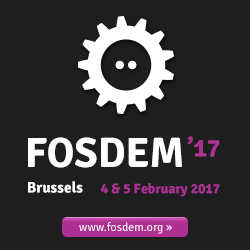 Our Project Manager François Déchelle – in charge of Armadito Antivirus – participated in a lightening talk (15mins talk), at FOSDEM 2017 Conference.  He had the chance to present our open source antivirus for PCs and servers: Armadito.
Every year, FOSDEM takes place in Brussels (Belgium), during February. Organized by volunteers, the event gathers developers of free and open source software from all around the world. The objective is to promote the use of open source technologies, to exchange ideas and to foment sharing economy!
It has been a great opportunity for Teclib' to be part of this international gathering, during which we had the satisfaction of discovering innovative projects.
If you want to know more about our open source Antivirus, check out Armadito Antivirus Presentation at FOSDEM 2017: > WATCH VIDEO NOW.
You can also find additional information on FOSDEM website: Armadito Antivirus Project.