Meet FormCreator plugin for GLPI – a plugin which allows creation of custom forms of easy access. At the same time, this plugin allows the creation of one or more tickets or changes when the form is filled.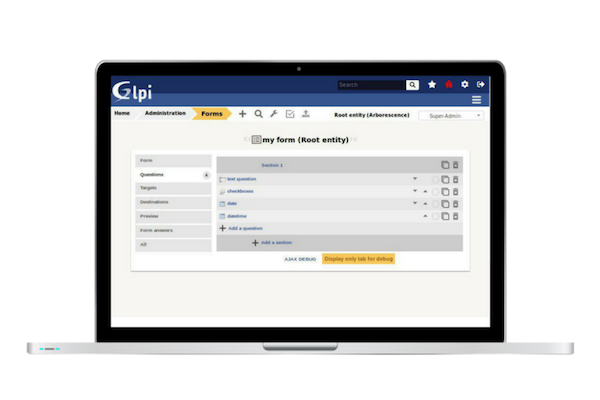 Main features:
Direct access to forms self-service interface in main menu
Highlighting forms in homepages
Access to forms controlled: public access, identified user access, restricted access to some profiles
Simple and customizable forms
Forms organized by categories, entities and languages.
Questions of any type of presentation: Textareas, lists, LDAP, files, etc.
Questions organised in sections. Choice of the display order.
Possibility to display a question based on certain criteria (response to a further question)
A sharp control on responses from forms: text, numbers, size of fields, email, mandatory fields, regular expressions, etc.
Creation of one or more tickets from form answers
Adding a description per fields, per sections, per forms, entities or languages.
Formatting the ticket set: answers to questions displayed, tickets templates.
Preview form created directly in the configuration.
An optional service catalog to browse for forms and FAQ in an unified interface
We have just released version 2.7.0-beta.3
Please, download it here: https://github.com/pluginsGLPI/formcreator/releases
and report us the issues you encounter on the bug tracker.
Thank you for your help!