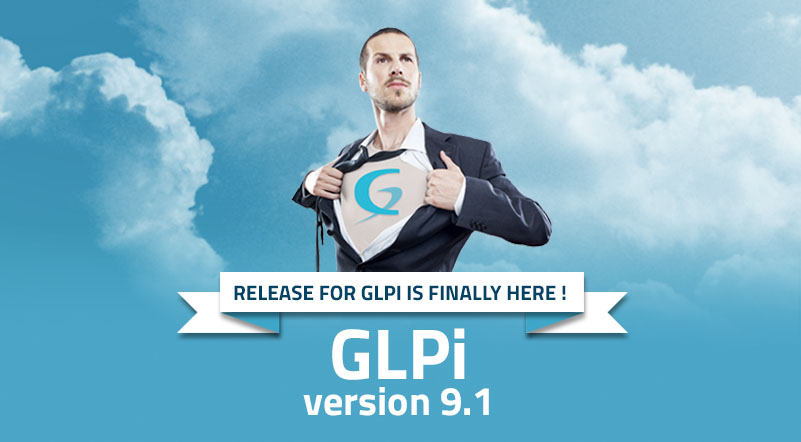 BARCELONA, September 26th, 2016 – Teclib' is pleased to officially launch the GLPi 9.1 release!
In order to give you an overview of the great new features that are rolling out in the GLPi 9.1 release, check out the list below :

NEW REST API
GLPi provides a staple REST API.
You can enable it in Setup > General > API and filter the external applications access.
A usage documentation is available by browsing the "http://path/to/glpi/apirest.php" url.
This API provides a full control of your GLPI.
For example you can view, add, delete or update assets or tickets.

TASKS ENHANCEMENTS
Predefined templates for tasks are now possible for tickets, problems and changes, as it is already the case for solutions.
It allows you to create predefined tasks that you can use whenever you need: saving your time and adding more efficiency.
To get started, go to Setup > Dropdowns > Task templates. Here you can add custom tasks based on the types you use most frequently.
For each template, you can set:
– a category
– a duration
– a comment
We have also enhanced task assignation: it is now possible to assign tasks to groups.
Tasks planned for groups will be displayed in the new planning view.

VISUAL LOCKS TO PREVENT MULTIPLE EDITION
A new feature has been implemented to prevent two users to edit the same object (ticket or asset).
For example, two technicians cannot work on the same ticket at the same time.
You can enable it in the Setup > General page and select the affected objects.
When an object is opened twice, a read-only profile will be loaded to prevent any edition on the second opening.
An information message will appear to indicate the locking of the item, with the date and the author of the first opening.
If a single user opens the same object multiple times, he/she will have the possibility to unlock the object.
The unlock event triggers when the user leaves the item's form. We also provided a daily automatic action (disabled by default) to automatically delete forgotten locks.
When you display a locked object, you can also ask to be notified by email when it will be unlocked.
You can also directly ask to the initial viewer to unlock the object, a mail notification will be sent on this action.

DEDICATED PAGE FOR LICENSES MANAGEMENT
Managing software licenses used to be painful. The team has added a page to allow users to browse/create/update licenses. Licenses templates are also available.
A new entry is present in the management menu.

PLANNING FULLY REWORKED
The planning has been reviewed and now implements the fullcalendar project (https://fullcalendar.io/).
It has flexible, interactive and responsive views.
A sidebar allows customization of displayed events (by type or actors) .
Now you can:
– create reminders events directly on the planning
– resize, drag & drop all events
– perform an ical export of a single actor planning
We also provide a new central page list view with colors, to identify late, past, current or upcoming tasks.
Events are displayed in a list for the current year.

TIME TO OWN IN A TICKET'S SLA
We have split the existing SLA feature in a new SLT object (Service Level Target), that gives the possibility to track the response time in a ticket, in addition to resolution time.
In the ticket interface, you will find a new field named 'time to own' with a SLT assignment option.

UPDATE OF THE RICH TEXT EDITOR TINYMCE
We have integrated the last version of the tinymce lib.
The theme is lighter and fits GLPi's global UI.

GLPI PROJECT COMMUNITY CHANGES
Following discussions on our dev mailing-list, a new workflow has been implemented for new features and bug fixes:
– each change is provided as a pull request on github
– this pull request has to be approved by several contributors, in order to be merged
To enhance the quality of our releases, unit tests are being implemented.
We also moved the management of php libraries to the composer tools. This will provide an easier way to update these dependencies.

DOCUMENTATION
GLPi's documentation is outdated or missing.
We are aware of this issue and would like to address it.
If you want to help, please contact us. The documentation's main language is English.
>  For an exhaustive list of changes, see the 9.1 milestone on github HERE
>  You can download the new version on the glpi-project website HERE 
The GLPi team would like to thank you for using and supporting our community.
We hope that you will enjoy this new release !
[vc_empty_space height="10px"][vc_separator color="custom" align="align_left" border_width="3″ accent_color="#c6d41f"][vc_column_text]
TECLIB'
Av. Diagonal, 440
08037 Barcelona
+34 512 702 140
marketing@teclib.com